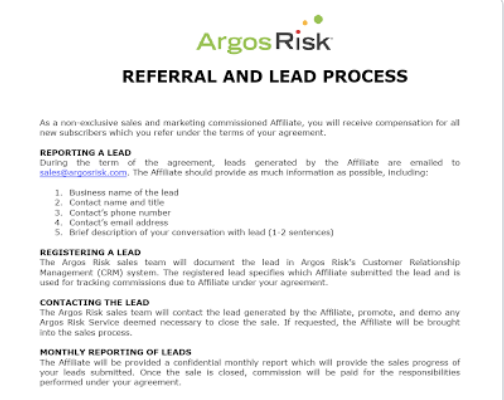 Forms & Procedures
Referral and Lead Process
---
As a non-exclusive sales and marketing Affiliate, Argos Risk pays commissions, per the terms of your Affiliate agreement, for AR Surveillance™ subscription revenue received from subscribers referred by Affiliate.
REPORTING A LEAD
During the term of the agreement, leads generated by the Affiliate should be submitted via this lead generation form. The Affiliate should provide as much information as possible, including:
Who is providing the referral? Enter your email address
Name of the business or Financial Institution (FI) you are referring
Contact name – to whom at the business or FI should we reach out?
What is their title?
What is their phone number?
What is their email address?
Brief description of your conversation with lead (1-2 sentences)
REGISTERING A LEAD
The Argos Risk sales team documents the lead in Argos Risk's Customer Relationship Management (CRM) system.
The registered lead tracks and specifies which Affiliate sales associate/rep submitted the lead. CRM is also used for tracking commissions due to Affiliate under your Affiliate Agreement.
CONTACTING THE LEAD
The Argos Risk sales team will contact the lead generated by the Affiliate, promote, demo AR Surveillance, and work with Affiliate to close the sale. The Affiliate will be kept abreast of the progress of the sale.
MONTHLY REPORTING OF LEADS
The Affiliate will be provided a confidential monthly report which will provide a sales update of the leads submitted.
Commissions are distributed to the Affiliate quarterly, as defined under the terms of Affiliate Agreement, for subscription revenue received from AR Surveillance subscribers referred and closed, and for the responsibilities performed under your Affiliate Agreement.
Download